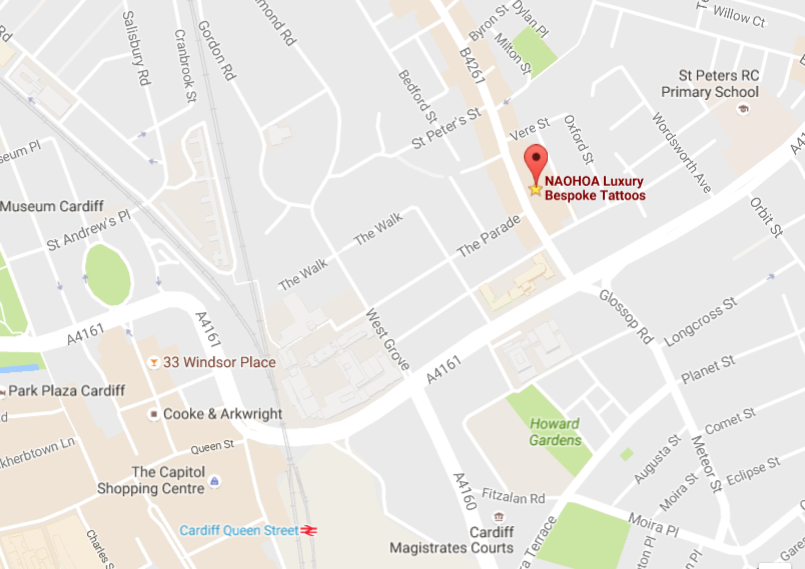 Opening Times:
Mon-Sat: 11AM-6PM (appointment only)
Sun: CLOSED
Any changes will be announced on Twitter.
Address:
NAOHOA Luxury Bespoke Tattoos
(inside Susan's Hair & Beauty Salon)
22 City Road
Cardiff
CF24 3TW

 info [at] naohoa.com

 07935 747 219
At this moment in time,  Naomi will only be present in the studio when booked in for tattoos/consultations or on Open Days. Please call or email in advance between 11am-6pm, Mon-Fri. Apologies for any inconvenience this may cause.
Please read the F.A.Q. before emailing me any questions.
Calls and emails are not answered outside of opening hours or when the artist is with a client. Thank you for your understanding.
Important:
NAOHOA is *not* affiliated with Susan's Hair & Beauty Salon. All enquiries about her services should be directed to her, not me.

Newsletter
Keep up-to-date on deals and receive summaries of news straight to your inbox! Click here to subscribe.
Planned Closures
Please check here for days where NAOHOA will be closed:
2017   |     2016     |     2015     |
Links to social media can be found in the footer and top right of the website.