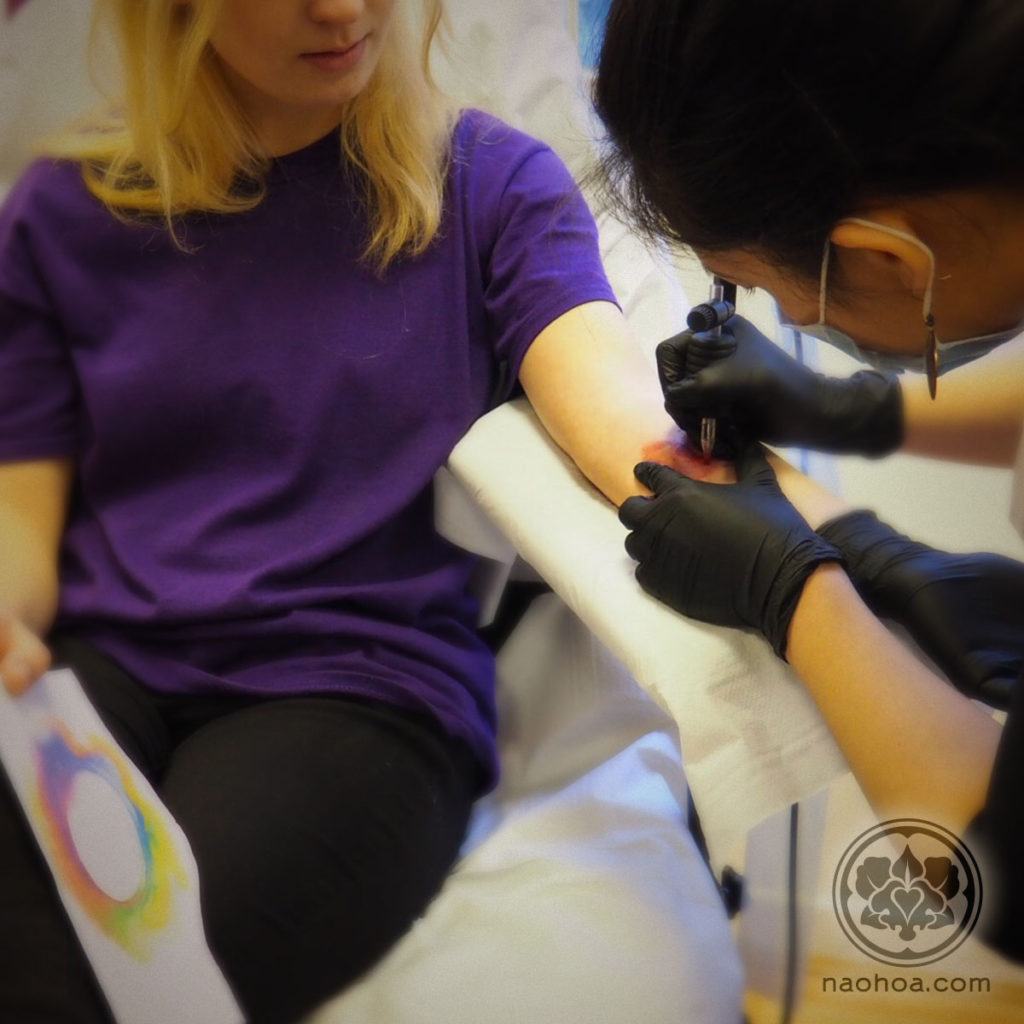 Last year, I crunched the numbers and discovered a whopping 40% of NAOHOA clients came here to get their first tattoo!
With so many of you about, I thought it would be a good idea to collate helpful information on what to prepare and expect when getting tattoo'ed…also, you voted for this topic more than the other one via Instagram Stories. 😛
Please note that I'll be writing with NAOHOA's processes in mind – other studios may have a different system in place. Since walk-ins aren't accepted here, there's generally more involvement required by the client to ensure they get a piece they really want – not just something they found.
.

What Do You Want? 🤔
Is it in memory of something or someone? Think about what epitomises this experience or person.
Is it one, or a collection, of your favourite things?
If you're getting a matching tattoo, what bonds you together?
These are all valid and there are no right or wrong answers! It's your body and your choice. Saying that, I personally won't tattoo subjects deemed offensive – different artists will have their own level of sensitivity on the matter, so check their portfolios to get an idea of what they will or won't tattoo and be respectful of their boundaries.
.
Where Do You Want It? 💪
Is it for you? i.e. hidden or somewhere easy for you to see.
Is it a statement piece? i.e. somewhere easy to flaunt.
Will its presence affect your work prospects? Consider what areas are appropriate for your role.
Honestly…think more about where you want to see it, rather than whether it'll hurt more or not. It'll be on you for life and in the grand scheme of things, the period of pain will be very short in comparison.
Note: I don't ink above the neck (i.e. face – nape of the neck is fine) and private parts. I'm also reluctant to tattoo hands, as they fade very quickly and generally aren't worth it. Artists will have their own list of no-go areas, so check with them first when enquiring.
.
What Art Style? 🎨
There are many ways to portray the same subject, and I appreciate that not everyone will know the terms to specific art movements or styles. The easiest way to get your idea across, is to create a Mood Board of things you like the look of. Don't limit yourself to other tattoos – branch out to paintings, sculptures, murals…anything visual that communicates your aesthetic taste.
Explained in more detail in 'What To Do Before Getting Your Tattoo'
If you'd like to put these thoughts to paper, you can download my Ideas Worksheet for FREE after subscribing to my Newsletter.
.

Choosing a Tattoo Artist 😎
Start by seeking artist who are capable of the art style you're after, then narrow down to location and budget. Tattoos are on you for life, so it's best not to skimp on the details.
Don't forget that building a rapport is important. You're trusting this person with your body and so the more respectful and professional they are, the better. If you're able to visit the studio and meet the artist beforehand, or follow their posts long enough to get a gauge of their personality, this will help ascertain whether they're a good match for you (or not).
Depending on the size of your tattoo, you'll be spending hours at a time with this person, so it doesn't hurt to check whether you're compatible!
.

Design Process ✍️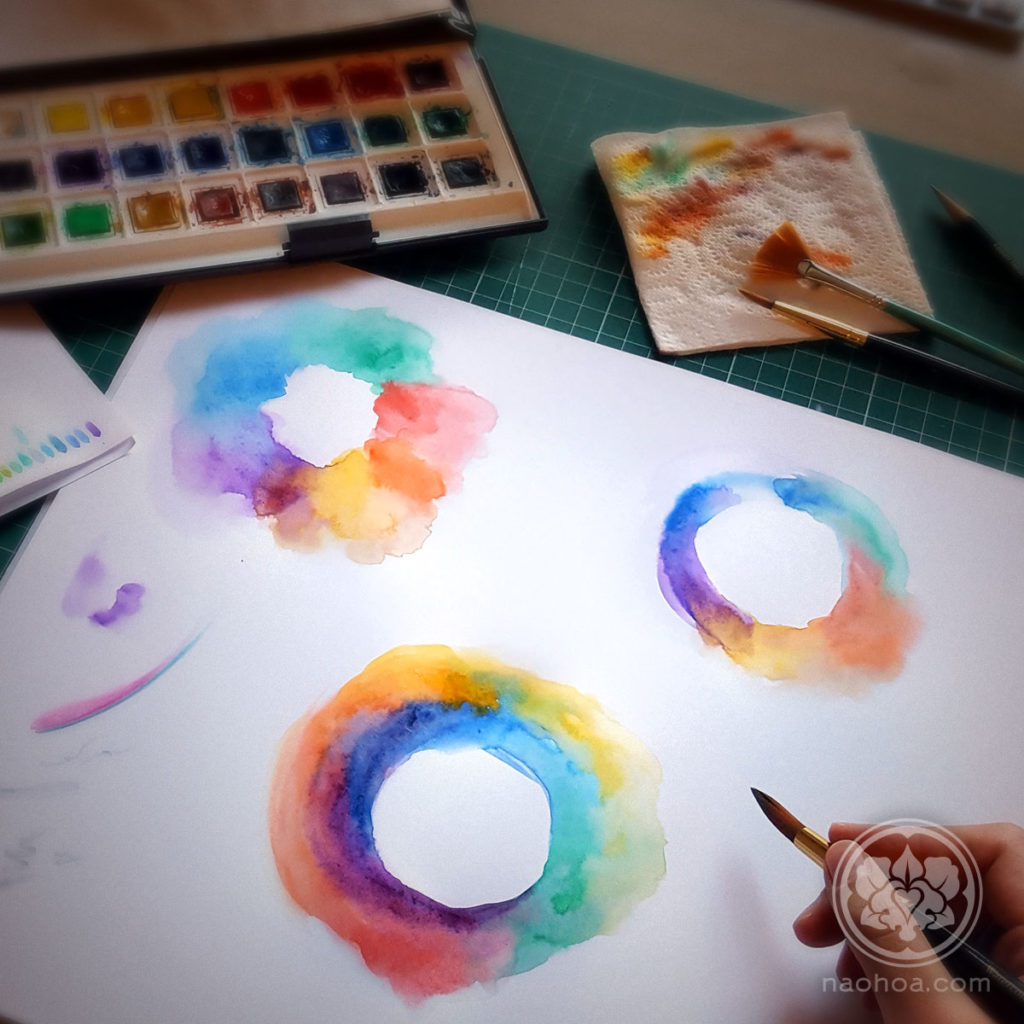 At NAOHOA, we have a face-to-face Consultation to get on the same page, before working on your design.
It's a collaborative process where we work together to bring your idea to life.
Full process explained here.
.
Temporary Tattoo
Your design is finished and you're excited to get it tattooed…but you stiiiiiill need some time to get used to it. At NAOHOA, you can have a temporary tattoo printed of your design. Having it placed on your skin will help you adjust to the reality of having body art. If you're unsure on where to get it, multiple copies can be printed for you to trial different locations. This is an optional step that's £5 to pay for cost of materials.
.

Tattoo Time! 👏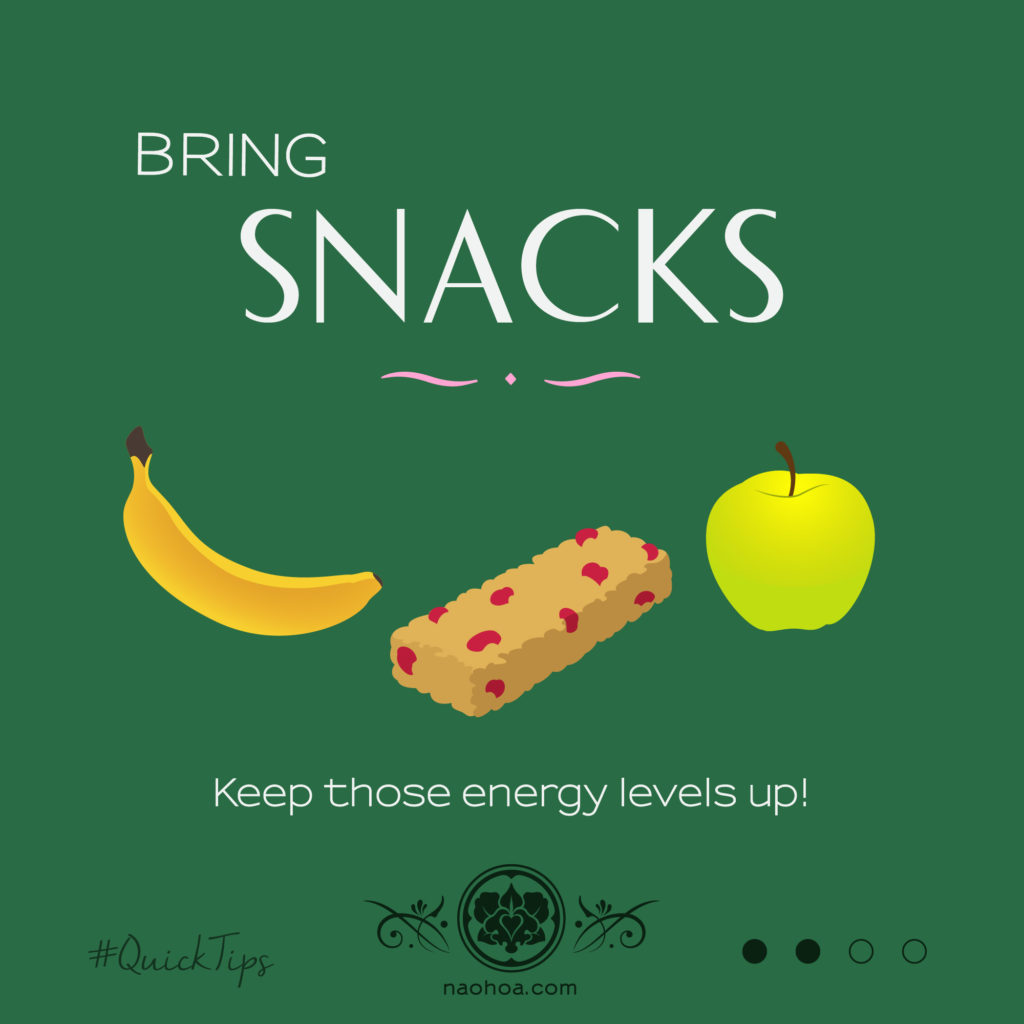 Energy 🍎
Eat a meal beforehand and stay hydrated during your sesh to keep your energy levels up. It's okay to bring snacks…just nothing smelly, please!
Heads up: coffee makes people bleed more, so please lay off the stuff until after your appointment.
.
Pain ⚡
Always the first question people ask about! Here's a clear list of suggestions:
Relax…the more calm you are, the less you're likely to feel the pain. You can read specific techniques in 'Keeping A Calm Mind'.
Paracetamol for pain.
Ibuprofen for swelling (eat something first).
Numbing cream is okay – you'll need to supply and apply it yourself. Brands such as TKTX or Ametop are fine as they don't change the texture of the skin. Emla is not suitable, because it makes the skin leathery and isn't made for tattoos.
Take breaks when you need to. Herbal teas are on the house! 🍵
Find out which areas hurt more than others (and why) in the blog post, 'Will It Hurt?'
NAOHOA cannot provide medical products and it is the client's sole responsibility to use them safely.
.
What to Expect on Arrival 😬
The general procedure at NAOHOA is for clients to fill in a Consent Form to confirm they're happy with the design, then review the Medical Form completed during the Consultation to note any changes (if applicable). Please sign and date both forms.
Bevvies are served and I'll have set up half the station before you arrive. Inks and machines are prepped after the client has arrived…in case they don't…because that has happened before. 😐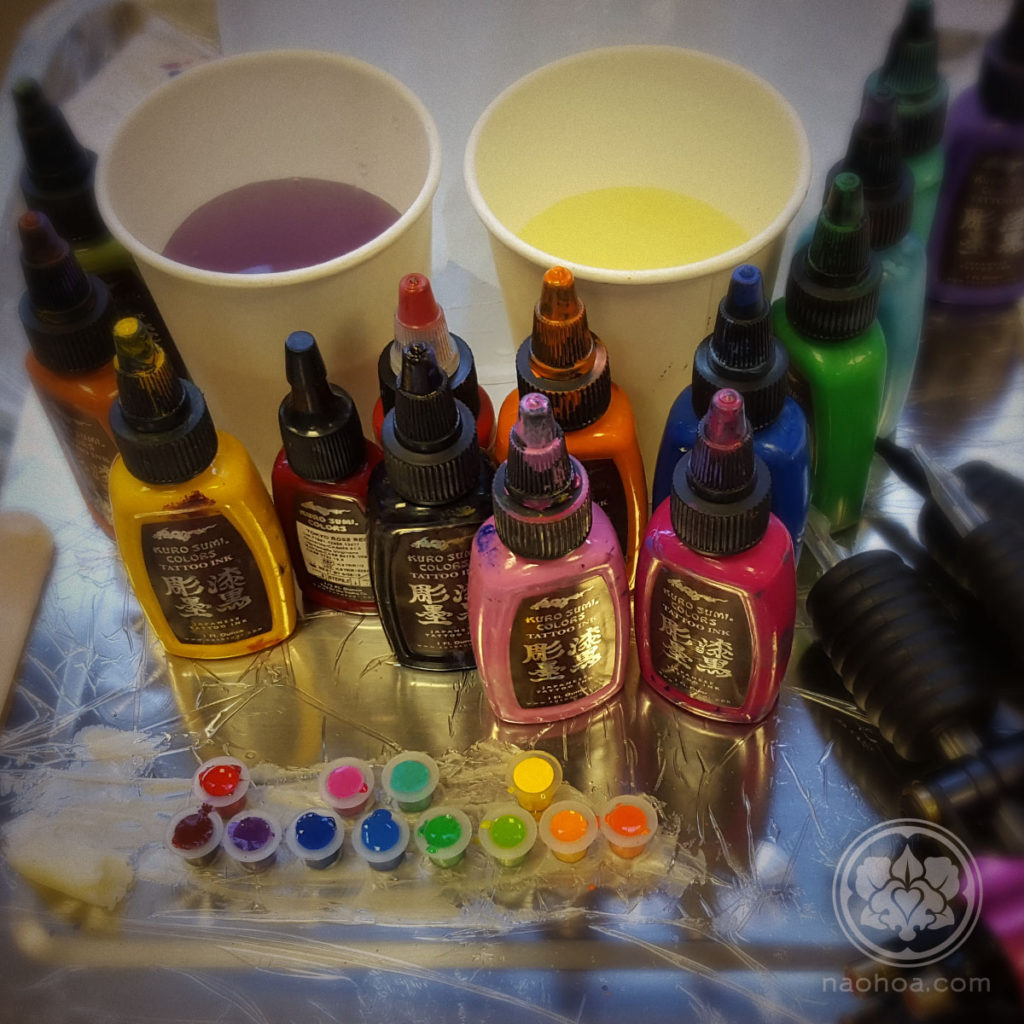 Black and grey pieces are straight-forward to prep, and generally take ~15 mins to have in place (inc. machines). Colour pieces take more time, as I mix every gradient individually for each tattoo, so the palette matches your design as closely as possible. This process is much like working with traditional oil paints, but with less freedom to mix colours in between, so please be mindful of the additional time it takes to prepare when paying for parking or making plans after your session.
Tattoos take time to prepare and carry out, so please be respectful of the process and avoid asking for it to be rushed. These steps are carried out to ensure you get the best possible art for you to enjoy for life. 🎨💕
.

Aftercare 💜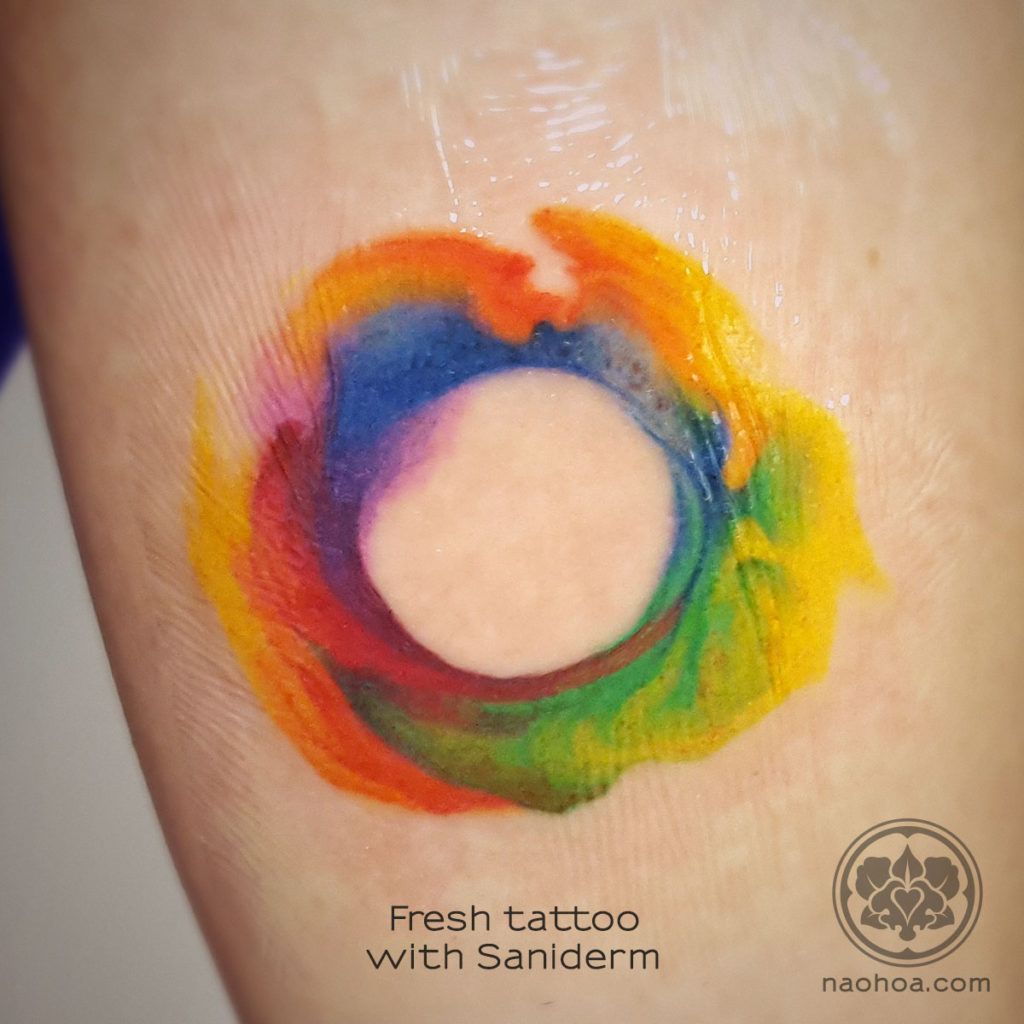 Heading Home 🏡
If you opt for Saniderm, I'll apply the first patch for you and teach you how to use it. If not, I'll wrap your tattoo with cling film, which is only to be worn between the studio and when you get home. Don't keep it on for long periods of time, as bacteria can grow underneath and infect your tattoo.
.
If Using Saniderm
The first patch I apply at the end of your session can stay on for up to 24hrs. The next day, soften with warm water and remove by teasing away the edges. Clean, rinse, dry and apply the new patch, which can stay on for up to a week.
Instructional Video:
.
If Not Using Saniderm
Clean and moisturise every few hours until healed (usually 2 weeks). It'll scab and that's normal! Just make sure it doesn't dry up, 'cause the ink could fall out during the scabbing process.
.
Universal Do's ✔
Keep under wraps to protect from direct sunlight (UV rays fade ink)
Be attentive: clean and moisturise your new tattoo every few hours if you're not using Saniderm.
If not using Saniderm, wear loose pyjamas that cover the tattooed area. When it sticks the next morning, run it under warm water and gently peel away the fabric to avoid pulling ink out of the new tattoo…otherwise, you'll be glued to your bed sheets with no choice but to tear yourself away!
.
Universal Don't's ❌
Avoid submerging in water (baths, swimming)
Avoid applying pressure to the new tattoo, as any sudden or sustained impact can cause the ink to bleed under the skin (i.e. blowout), leaving unsightly marks that are permanent.
Do not scratch – instead, pat your tattoo or apply something cold to soothe the skin.
More advice in the Aftercare page.
.

Enjoy Your New Tattoo! ✨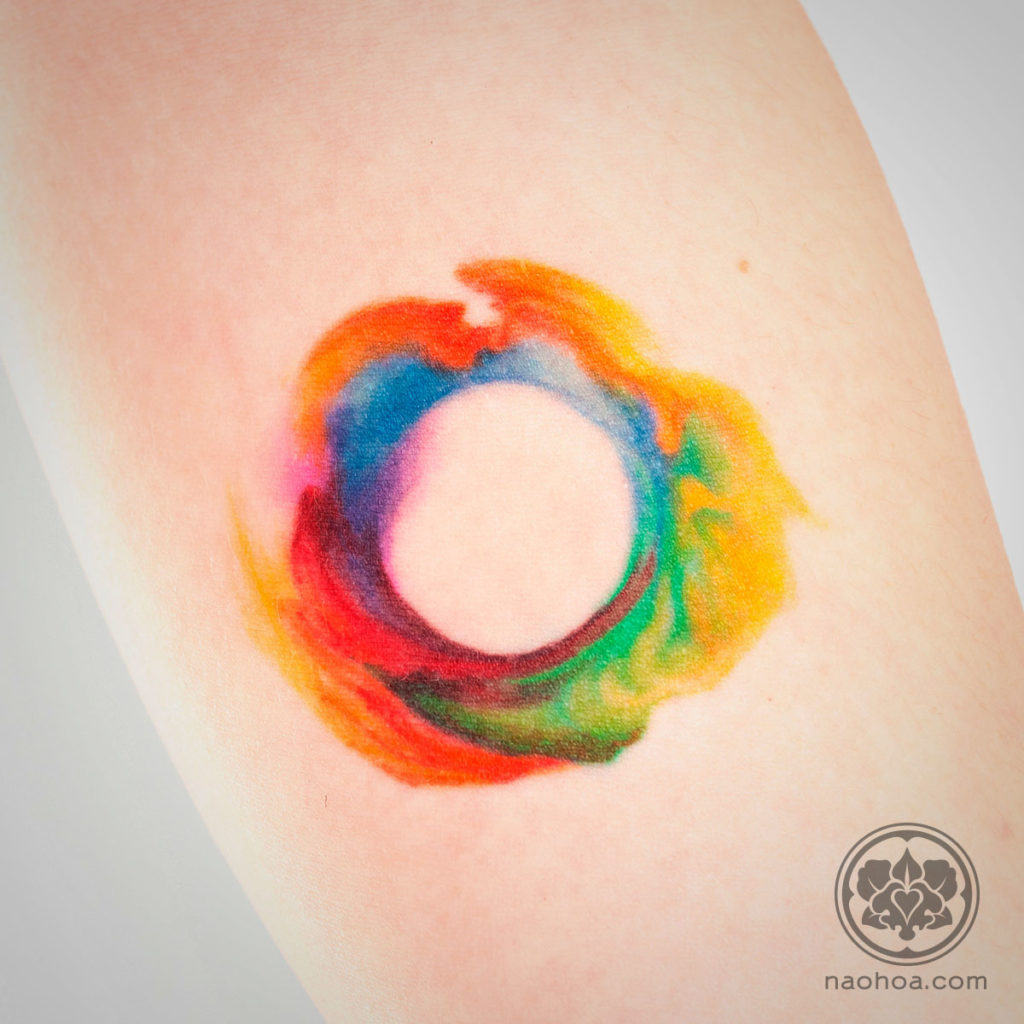 You've gone through it all and your tattoo is beautifully healed – congrats!! To keep it looking fresh, moisturise your skin regularly and exfoliate once a week. When out in the sun, use SPF 30+ to protect it from UV rays, which would otherwise fade it.
.

Related Blog Posts:
Everything here has been written in more detail in the following blog posts:
.

Are You Ready to Begin Your Tattoo Journey?
Book a Consultation online!