Tattoos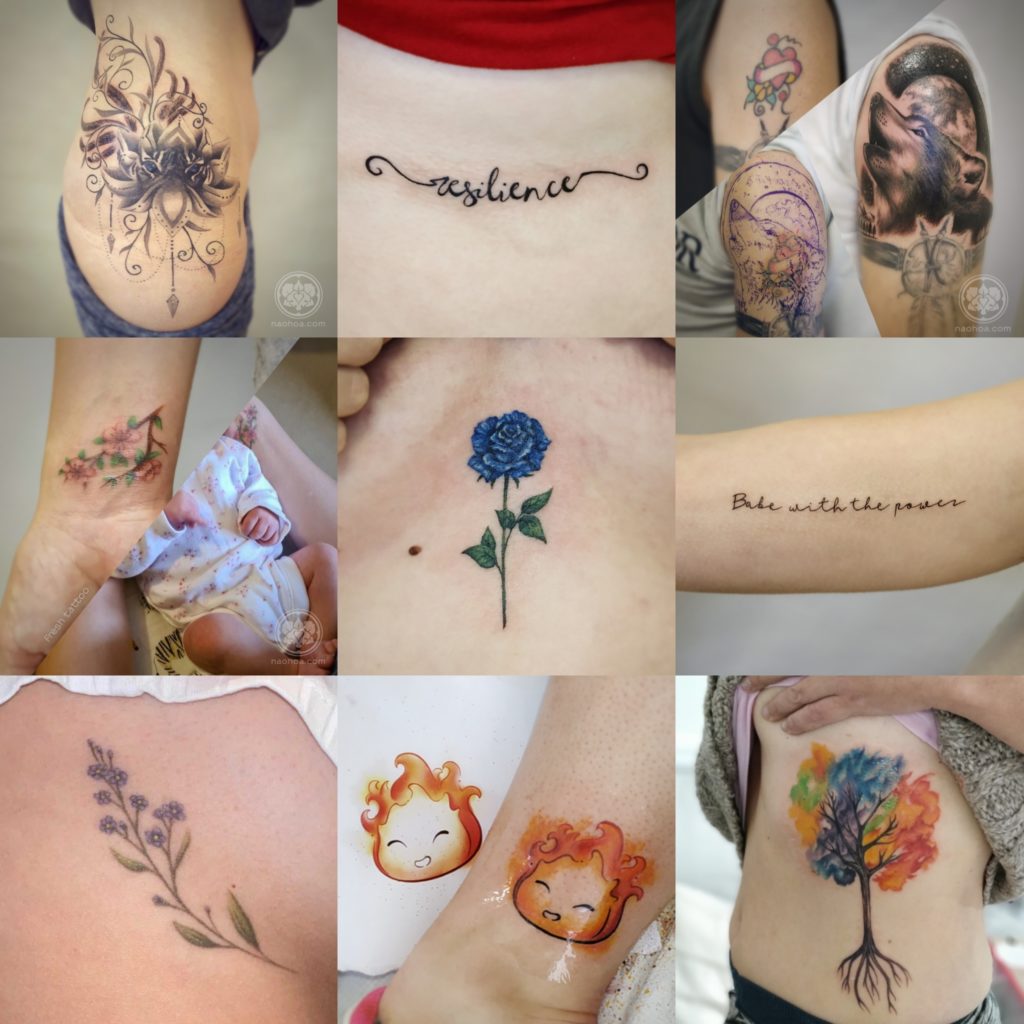 Finally finished the tiger torso/hip piece we started a while back. This GP predicted our first lockdown scarily accurately! 🐯 (1)
'resilience', I feel is a word we've all had to endure this year especially. 💪 (2)
It wouldn't be a round-up without a coverup lol. Here, Paul says goodbye to his old-school heart tattoo and we replace it with a howling wolf. 🌕 (3)
Congrats to Lorna on bringing Imogen into the world after so much heartache. Each cherry blossom on her wrist represents the ones who didn't make it. 🌸 (4)
I really enjoyed inking this small, detailed rose and would like to do more in future. 💙 (5)
This fineline 'Babe with the power' brought on many cheers from Bowie fans! ⚡️(6)
I haven't actually posted this one on my feed yet, but it's a lovely healed pic of forget-me-nots, in loving memory of her grandma. 😇 (7)
To celebrate Ghibli's debut on Netflix, I created a load of #GhibliFlashTattoos ! Normally just an outline, this one ended up with watercolour flourishes to bring the lil' guy to life. 🔥 (8)
Wrapping up with this month's #NAOHOAstory, 'cause I know you love dem #WatercolourTattoos ! 🎨 (9)
---
Although I've not been able to ink much this year, it's been a blast to see you guys whenever possible. Thanks so much for your support and understanding throughout all this. 🙏 It's been a bonkers year and I'm grateful to still be standing, despite all the setbacks.
Out of the 52 weeks 2020 had to offer, NAOHOA was closed for 34. 😐 Thanks for not biting my head off while I worked behind the scenes to keep the business afloat, or burnt out multiple times from doing just that. 🙃 Your kind messages really helped keep me going through such turbulent times…
Stay safe, be kind and I'll see you on the other side. ✌
N️aomi xxx
---

---
Business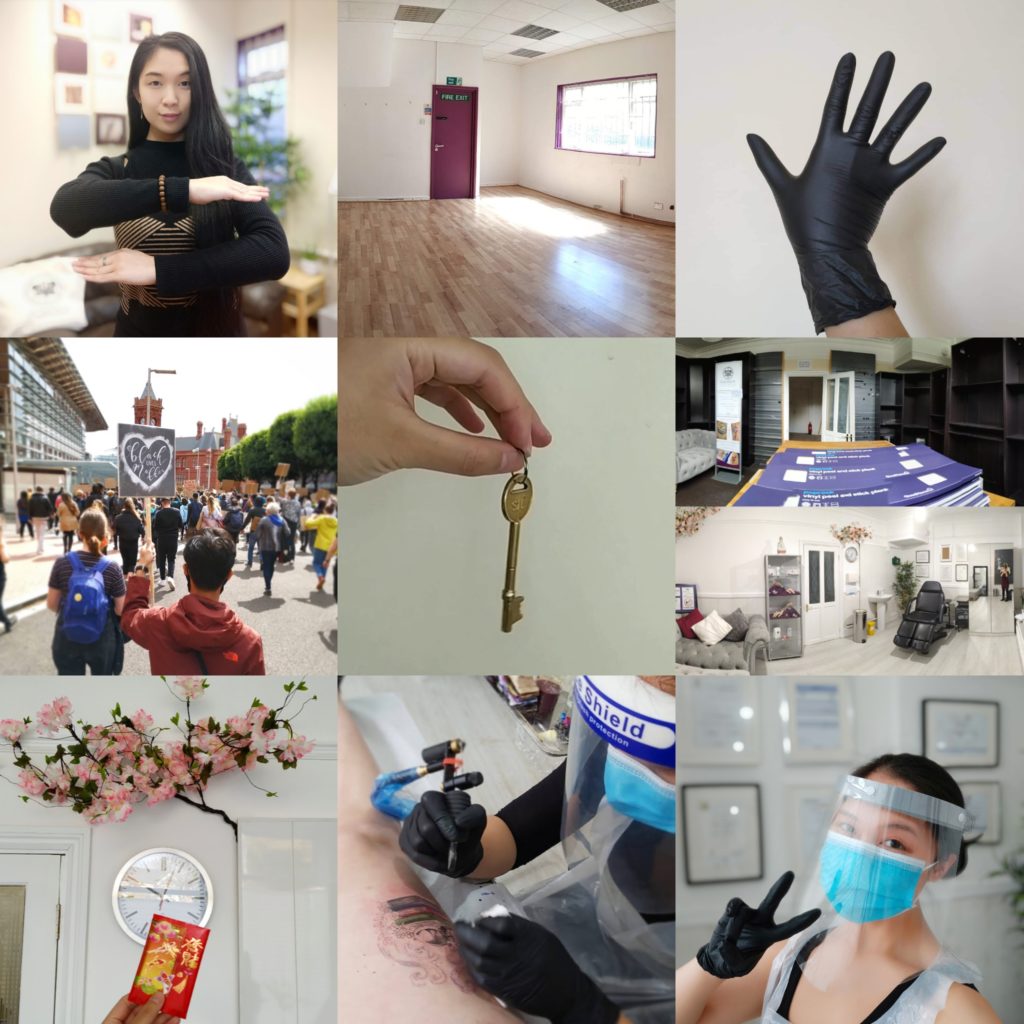 2020…the year where I felt like an empowered female business owner ♀️ (1: #InternationalWomensDay, March), before AARRGHHMOVESTUDIO-into-storage-after-a-dispute-I-didn't-want-to-waste-time-on (April). Bye-bye, City Road (2). 👋 5 years of business there, all wrapped up rather unceremoniously…😢
---
Lockdown happened and we felt helpless while the weather was glorious. Donated gloves to NHS 💙 (3), then joined Cardiff's peaceful protest for #BlackLivesMatter ✊✊🏾 (4).
---
In July, I finally found a new home for NAOHOA in Cathay's, though it took 1.5 months to process. 🔑 (5)…and the same amount of time to redecorate (6). On October 20th, I reopened after 30 long weeks of being out-of-action – a date settled weeks prior, that happened to land the day after the Welsh Government announced the Firebreak Lockdown (7). 🔥🚫
I was allowed to ink again from 9th Nov, with news that another lockdown would commence for businesses like mine on 24th December. Oh how I loved being back – inking, chatting (but not the cleaning 🙄), then BAM. Emergency announcement on the 19th that lockdown would in fact happen that night. I spend the rest of my day off contacting clients and rescheduling peeps to clear my calendar. 🙅🏻‍♀️
---
Things I'm grateful for, despite the madness:
🧘🏻 Taking time out.
💗 Investing energy into causes I'm passionate about.
👍 Having an amazing support network.
👛 Being furloughed, so I could get by.
🐻 Animal Crossing: New Horizons
🤗 Last but not least…you guys!
It's been one helluva ride, 2020. It was tough, but I'm glad to have gotten the nudge (or…shove 😬) to secure my own studio. ✨ It's been a long time coming and I needed it. This pandemic is far from over, but fingers crossed it'll be tamed by the end of next year.
Hey, 2021…go easy on us, yeah? 😜
Happy New Year, folks~ 🥂🍱🍰
Naomi xxx