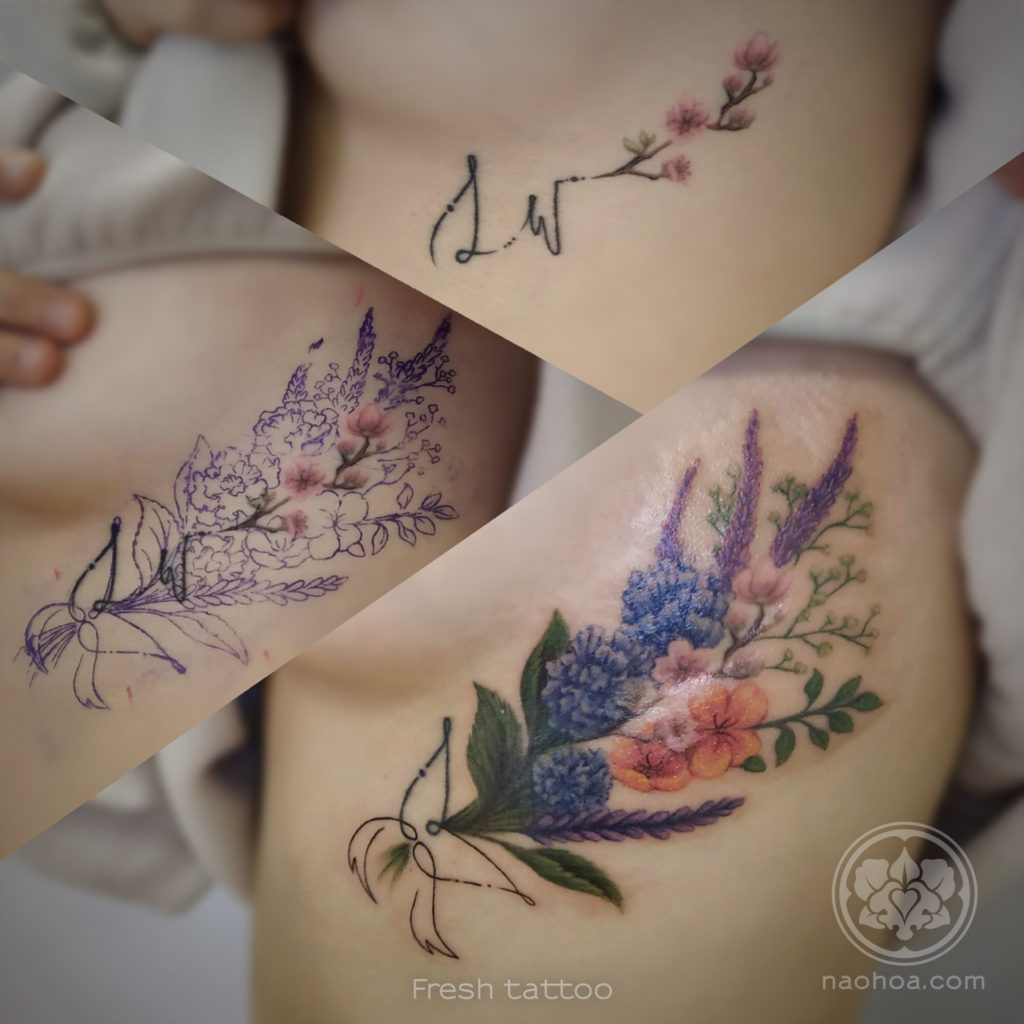 There are many reasons to want an old tattoo obscured forever. Whether you've fallen out of love, changed taste over the years or hold a different view to your past self, there is hope!
Many people have approached NAOHOA to give their old tattoo a new lease of life or change of meaning, so it's safe to say you're in good hands here. Regardless of which studio you decide to approach for your tattoo transformation, here are some common questions on the subject, along with my best efforts to answer them!
.

What is a Coverup?
A coverup is the process of obscuring an old tattoo with a new one, so you no longer see it.
.
Does it Need to be Faded First?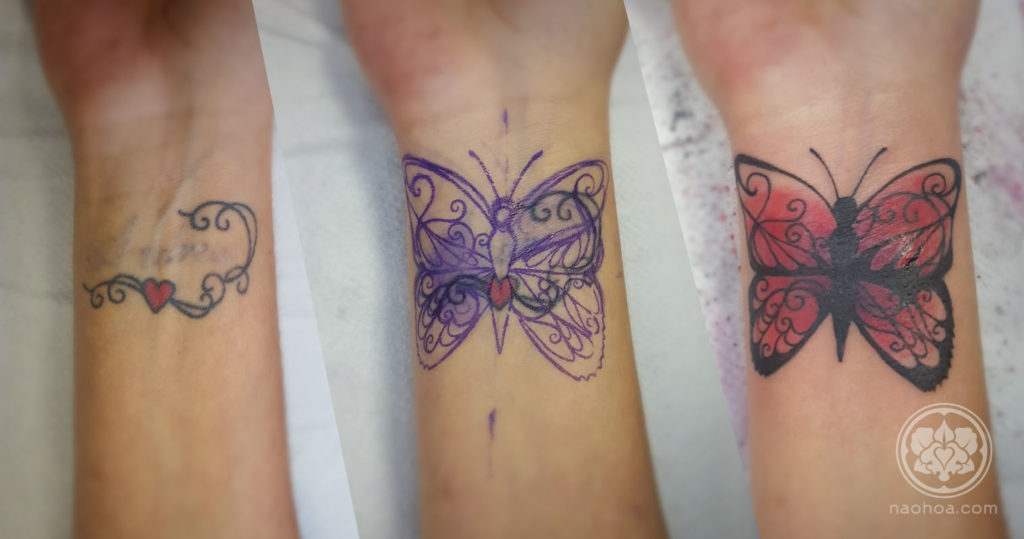 Not necessarily, but it does help. Laser tattoo removal is the obvious and best solution when looking to fade an existing tattoo. Another option is to fade it with skin-tone ink, then tattooing over it again after the skin has healed.
.
Do I Have To Go To The Same Artist?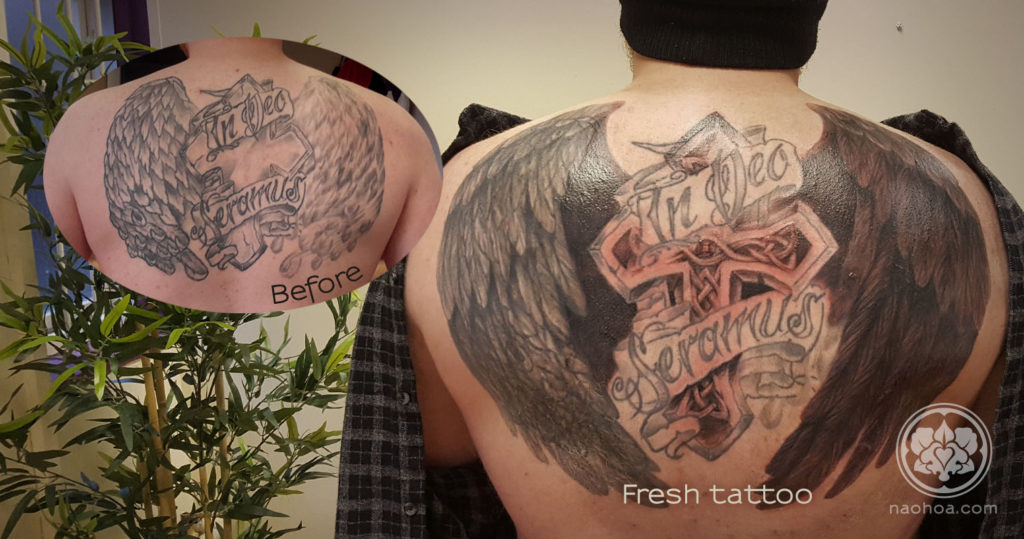 Not unless you want to! It's natural for people to lose trust in an artist who let them down the first time and to feel reluctant to go back to them. Other common situations involve the original artist moving far away or switching careers/retiring.
It's up to you who you choose to ink your new piece – just make sure you do plenty of research and check their portfolio before approaching them. When you meet, keep note on how attentive they were and whether they have your best interests in mind. An artist who truly cares is more likely to do a good job or even refer you to someone who will, compared to one who sees all work as just another paycheck.
.
…Won't The Previous Artist Be Annoyed?
Probably. 😜 My stance is: It's your body; your choice. Don't let other people's egos get in the way of how you enjoy (or in this case, dislike) your body art.
There are some artists who won't go over someone else's work out of respect, or perhaps fear. It's an unspoken rule in the industry. Others might simply not feel confident enough to do the job due to inexperience, so it's best to approach artists who are well-versed in the world of tattoo coverups.
.
How Can I Get a Tattoo Covered Up?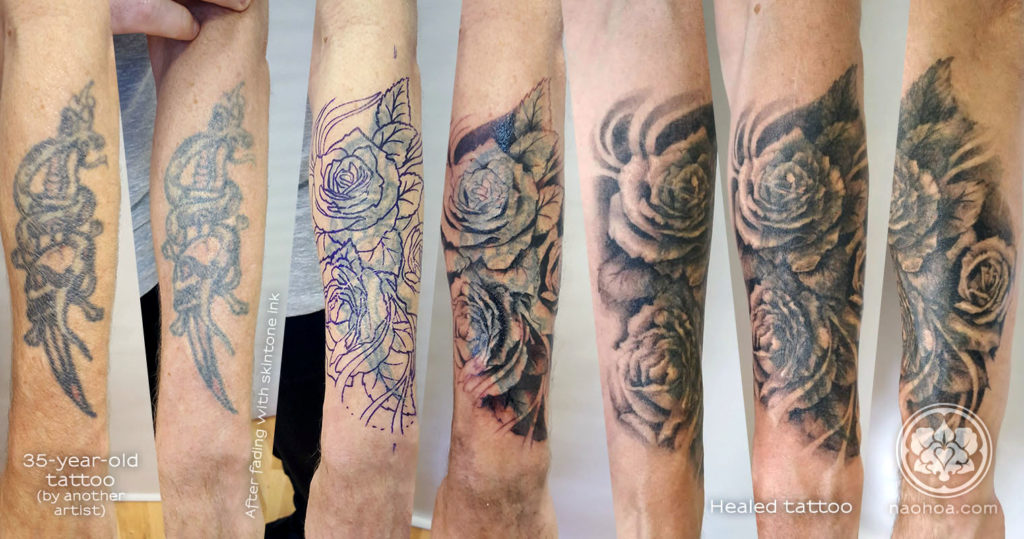 At NAOHOA, a one-to-one Consultation takes place for me to get to know you, your tattoo idea, check for health issues and take measurements/make a template so it's easier to create the design. After paying the deposit and getting through the Waiting List, sketches are then produced to show ways it can be hidden, until the client is happy with the design. Other studios may work differently.
Sometimes, I may request the client attend an initial appointment to go over their tattoo with skin-tone ink. Once healed (pictured, second panel from the left), it's then worked on with the agreed design. This extra step makes it easier to cover the old tattoo without having to go in too heavy with dark inks. Typically, I suggest this step if the client is not interested in having laser removal treatment but I feel their tattoo needs to be lighter for the best possible outcome.
.
Do I *have* to Get a Really Large Tattoo to Cover My Old One?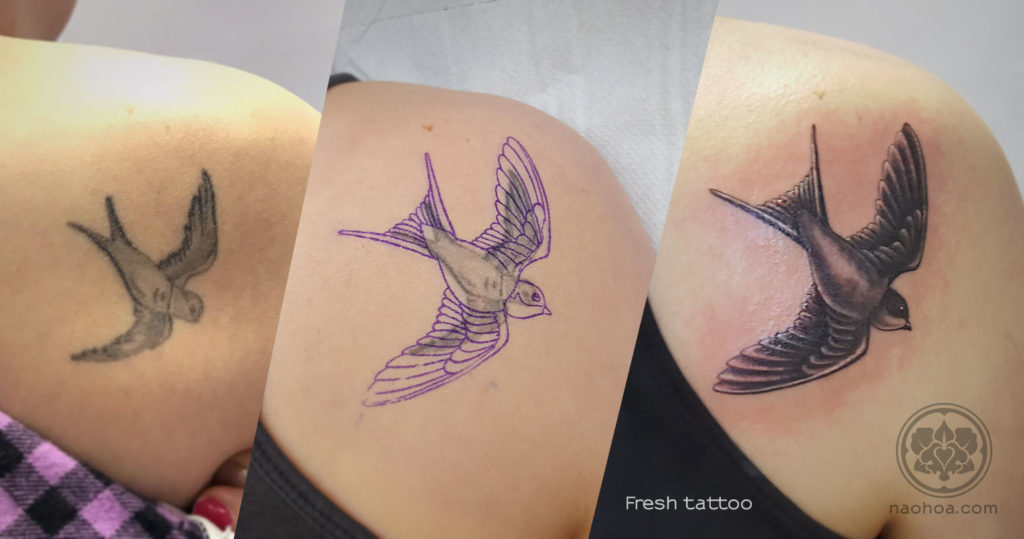 The quick answer is no, but expect to go larger in general. It isn't strictly necessary, but please be realistic. Covering an old tattoo with a new design with barely any wiggle room is tricky and won't look as nice compared to upping the ratio of 'blank' skin to balance it out. Sometimes it can work out (like the photo above), most of the time it won't, so be prepared to go bigger than the existing piece.
Unfortunately, reality TV shows have warped people's expectations when it comes to the tattoo process and what needs to be done to hide an unwanted tattoo. If an artist is insistent on you requiring a tattoo that's grossly disproportionate to your existing one, look elsewhere and compare notes.
.
Will A New Tattoo Cover My Old One Completely?
Hopefully! That's the point, though sometimes it's just not possible to hide the old one without fading it beforehand, unless you're comfortable with having a very dark tattoo.
It's also worth noting that scar tissue (either from cuts/burns or the previous artist going too deep into the skin) will still show through. Keloid scars in particular, as they are raised.
I'll be writing a post about scars and tattoos at a later date and update this post with a link.
.
What If Some of My Old Tattoo Shows Through?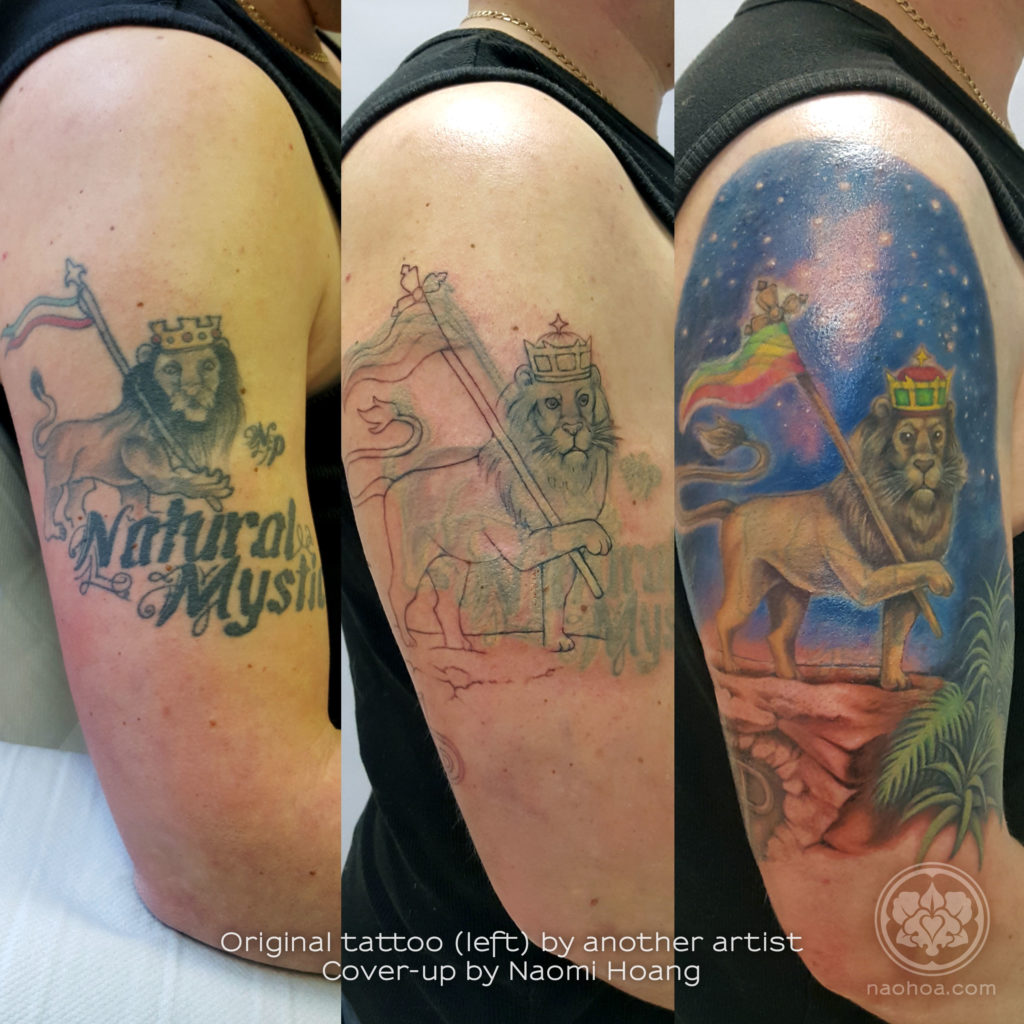 This is a possibility, especially along areas with lighter colours or shading.
Overall, most clients at NAOHOA either don't notice them (I do, because I stare at them for hours at a time!) or simply don't mind, because it distracts enough for them to feel satisfied.
If it really bothers you, then you can either consider laser removal and retouching the tattoo, or simply the latter to make the area darker.
.
Will it Need to be Touched Up Afterwards?
That's up to you! All tattoos fade over time and if you feel some areas need sprucing up, contact your artist to arrange an appointment. 🙂
.

Are You Ready To Transform That Unwanted Tattoo? 😬
Book a Consultation online:
.