#ManchesterTattooAppeal
Hi everyone!
In response to the horrific Manchester Arena Attack on 22nd May, I was approached to do a Manchester Bee tattoo as a tribute and means to raise money for the families affected. The first person to contact me was a Cardiff-based Mancunian and interest soon spread to fellow locals, all happy to save a big trip to Manchester and queuing for hours.
Manchester Bee Tattoos
(click to view videos)
A couple came in for matching tattoos – one of whom had never been inked before!
"…a way to show that you're against terrorism"
– Client during tattoo session.


Temporary Tattoos
Understandably, not everyone was keen to go under the needle at such short notice but wanted to participate somehow, so I made temporary tattoo transfers as an alternative:
They're also safe for kids and even helped one user 'test drive' hers before committing to the real thing: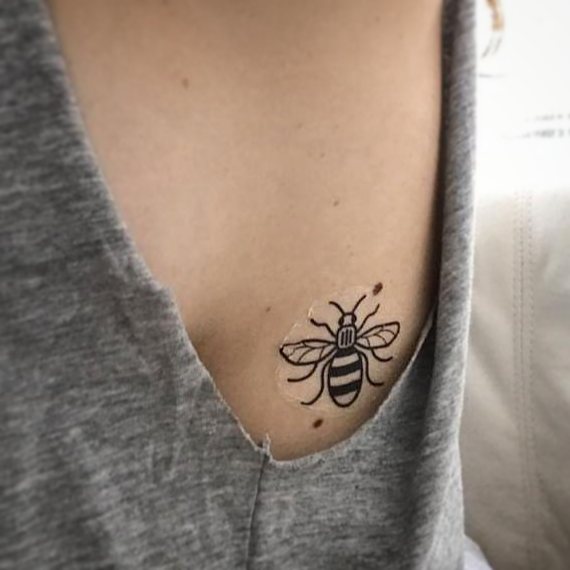 American Fashion Designer, model and photographer, Julia Marie Chew, purchased two bees and used them in this beautiful photoshoot with her partner, Stephen Zane (photography by Greg Suarez):


Money Raised for #ManchesterTattooAppeal
Overall, £88 was raised via tattoos and I topped it up to make £100.
It's been an honour being part of this and helping the families whilst meeting wonderful people. Britain has experienced a cluster of devastating events recently, such as the Westminster Attack, London Bridge and Grenfell Tower…not to mention the unfair surge of Islamophobic hate crimes (including the attack on Finsbury Park Mosque) that continue to rise and cause more pain.
Times like this is when we need to be especially mindful of our actions and fellow peers.
Please, be kind…life's too short to waste on hate.
Naomi xxx